Back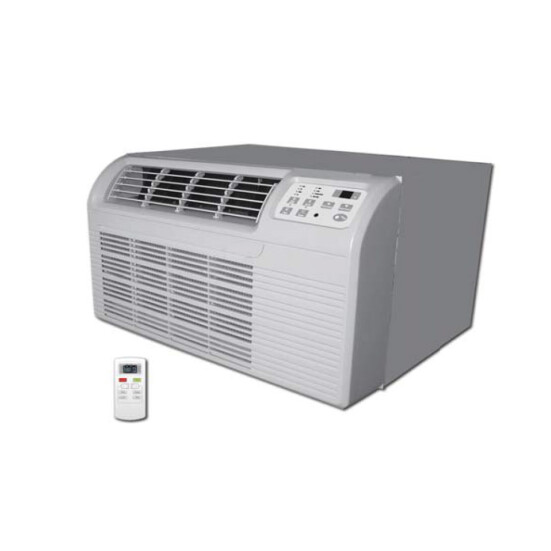 Additional information
| | | | |
| --- | --- | --- | --- |
| Air Conditioner Configuration | TTW | Manufacturer | IslandAire |
| Manufacturer SKU | EZ2609B2C1S45AA | Condition | New |
| Btu Cooling | 9,000 Btu | Required Voltage | 208-230 V |
| Required Amperage | 20 A | Cord Included | Yes |
| Plug Type | NEMA 6-20 | Interface Type | Digital |
| Heat Type | Heat Pump | Heater Size | 1.0 kW |
| Product Length | 26 | Product Width | 16.875 |
| Product Height | 15.625 | Shipping Length | 0 |
| Shipping Width | 0 | Shipping Height | 0 |
| Energy Star Certified | No | Parts Warranty Period | One-Year |
| Whole Machine - Labor Warranty | 1 Year | Compressor / Sealed System Warranty | 5 Years |
| Refrigerant Type | R-410A | Noise Level dB(A) | 60 |
| Wi-Fi Connectable | No | Remote Control Included | Yes |
| Number of Fan Motors | 2 | Fan Speeds | 3 |
| Energy Efficiency Rating (EER) | 10.0 | COP Rating | 3.1 |
| BTUs Heating (Nominal) | 11000 | Maximum Cooling Watts | 940 |
| Maximum Heating Watts | 3400 | Actual Cooling BTUs @ 208V | 9100 |
| Actual Cooling BTUs @ 230V | 9300 | Actual Heating BTUs Elec @ 208V | 11000 |
| Actual Heating BTUs Elec @ 230V | 8800 | Actual Heating BTUs Heat Pump @ 208V | 8600 |
| Actual Heating BTUs Heat Pump @ 230V | 8800 | CFM (Cool/Wet Coil) - High: | 270 |
9,000 Btu Islandaire Through-the-Wall Heat Pump with 1.0 kW Backup Electric Heat - 208 V / 20 A
Islandaire's EZ Series 26 units are designed for individually-zoned climate control. With heavy-duty construction and a focus on noise reduction, this model gives guests a quiet, comfortable experience. Operating at a whisper, this TTW unit gives users their ideal climate without the disturbance of noisier models.

How? Here's how: A brand new motor design lets the unit operate efficiently at lower speeds, cutting overall sound levels. Vibration isolators absorb the noise of the compressor. The elongated fan spreads air over a wide area, keeping things even quieter. High-density insulation keeps outdoor sounds where they belong--outside and away from your guests' ears.

Islandaire provides further convenience through an intuitive digital control system and a hand-held remote.

And who says the indoors has to be stuffy? A fresh air vent brings clean air in from the outside, giving guests a crisp, healthy environment to bask in.

Some TTWs are known for an all-too-brief lifespan. Islandaire won't give you any worries on that count. They built this model to last. Advanced anti-corrosion protection shields the outdoor coil, extending unit life--especially in harsh weather. Both the indoor and outdoor coils boast stainless steel endplates for added protection, and the indoor coil frost sensor guards the compressor. The durable front panel features a break-proof control door and tough design. The permanently lubricated fan motors extend the life span as well as add yet another layer of noise reduction. And lastly, the tamper-resistant grille and durable powder coat will keep your unit cooling and heating for a long, long time--all at a whisper.

And maintenance? Maintenance is all too easy: the washable antimicrobial filter is designed for easy removal. As for the rest, this device was engineered to handle most everything itself.

Islandaire does the work so you and your guests can relax in peace.

*Please note that PTAC units do not include sleeves and grilles. These must be purchased separately.
We'd love to help you save money on new PTACs and professional installation.
Do a little research, and you'll quickly realize that PTAC Crew offers the lowest prices on new PTACs. We also happen to be the only professional installation company operating in all 48 lower states. Give us a call, and we'll put together a very attractive quote for you. Don't hesitate to call with your PTAC-related questions.
Why buy refurbished units with a warranty
Our factory refurbished PTACs come with a 6-month warranty. You can rest assured that our best deals are a smart choice for you business.
Learn more
Would you like us to remove your old PTACs?
Our professional crews will remove your old units. We will then refurbish or recycle them at our EPA-Certified facilities.
Learn more
Which PTAC units are the best?
Our definitive buyer's guide will help you pick the right PTACs for your property.
Download our guide