Back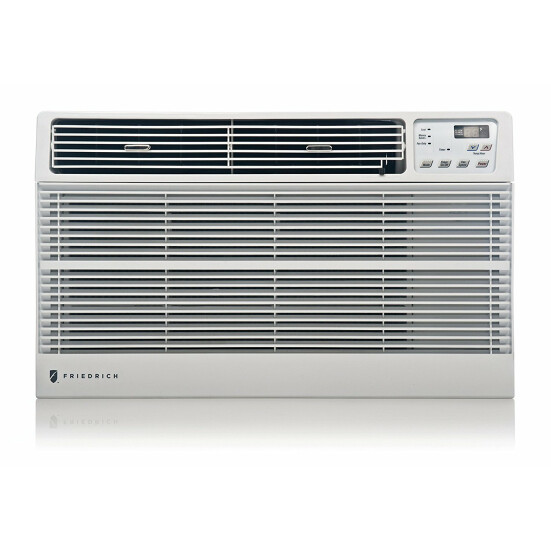 Additional information
| | | | |
| --- | --- | --- | --- |
| Net Weight (lbs) | 78 | Air Conditioner Configuration | TTW |
| Manufacturer | Friedrich | Manufacturer SKU | UE10D33C |
| Condition | New | Btu Cooling | 10,000 Btu |
| Required Voltage | 208-230 V | Required Amperage | 20 A |
| Cord Included | Yes | Plug Type | NEMA 6-20 |
| Interface Type | Digital | Heat Type | Resistive Electric Only |
| Heater Size | 3.5 kW | Product Length | 27.75 |
| Product Width | 22.25 | Product Height | 17.25 |
| Shipping Length | 28 | Shipping Width | 22.5 |
| Shipping Height | 18 | UPC Barcode | 724587431780 |
| Energy Star Certified | No | Parts Warranty Period | One-Year |
| Whole Machine - Labor Warranty | 1 Year | Compressor / Sealed System Warranty | 5 Years |
| Refrigerant Type | R-410A | Dehumidification (Pints/Hr.) | 3.2 |
| Wi-Fi Connectable | No | Remote Control Included | Yes |
| Number of Fan Motors | 2 | Fan Speeds | 3 |
| Energy Efficiency Rating (EER) | 9.8 | BTUs Heating (Nominal) | 11200 |
| Maximum Cooling Watts | 1020 | Maximum Cooling Amps | 5.1 |
| Maximum Heating Watts | 3500 | Maximum Heating Amps | 15.3 |
| Actual Cooling BTUs @ 208V | 9800 | Actual Cooling BTUs @ 230V | 10000 |
| Actual Heating BTUs Elec @ 208V | 9200 | Actual Heating BTUs Elec @ 230V | 11200 |
| CFM (Cool/Wet Coil) - High: | 285 | | |
10,000 Btu Friedrich Uni-Fit Through-the-Wall A/C with 3.5 kW Electric Heat - 208 V / 20 A
Produced by the well-known and trusted company Friedrich, which was founded in 1883, this 10,000 Btu air conditioner is best suited to a room of about 450 square feet. Not only does it create crisp, cool living conditions, it is equally effective as a heater with its 3.5 kW electric heat.



Energy efficiency is a defining characteristic of this unit, guaranteeing the user big savings and reduced impact on the environment with use. The 24-hour timer allows you to program in your preferred times for the air conditioner to turn on and off. Meanwhile, the Money Saver function reduces further energy use by operating the fan only during periods of cooling. Auto restart means that users are saved from the hassle of manually restarting the unit after power outages.



Its washable antibacterial air filter makes it easy to keep this air conditioner producing cool, clean air for years to come (and has a "check filter" reminder so users will not forget). There are three different cooling speeds, as well as a fan-only setting on days of milder weather; plus, six-way control of airflow allows air to be directed anywhere in the room. Corrosion protection offers resistance to corrosive damage, and defrost control is useful when temperatures get very low.



It fits well into the decor of virtually all rooms. The coloring of the chassis is simple, neutral, and muted, and it can be installed entirely flush with an exterior wall. The universal fit trim ring covers gaps measuring up to 1 inch on the sides and half an inch on the top and keeps the overall look of the unit minimal and attractive. With Uni-Fit, this air conditioner can easily be fit to wall sleeves measuring between 24.5 inches and 27 inches. Use of this unit means years of effective, trouble-free cooling at a low cost.

*Please note that PTAC units do not include sleeves and grilles. These must be purchased separately.
We'd love to help you save money on new PTACs and professional installation.
Do a little research, and you'll quickly realize that PTAC Crew offers the lowest prices on new PTACs. We also happen to be the only professional installation company operating in all 48 lower states. Give us a call, and we'll put together a very attractive quote for you. Don't hesitate to call with your PTAC-related questions.
Why buy refurbished units with a warranty
Our factory refurbished PTACs come with a 6-month warranty. You can rest assured that our best deals are a smart choice for you business.
Learn more
Would you like us to remove your old PTACs?
Our professional crews will remove your old units. We will then refurbish or recycle them at our EPA-Certified facilities.
Learn more
Which PTAC units are the best?
Our definitive buyer's guide will help you pick the right PTACs for your property.
Download our guide