Back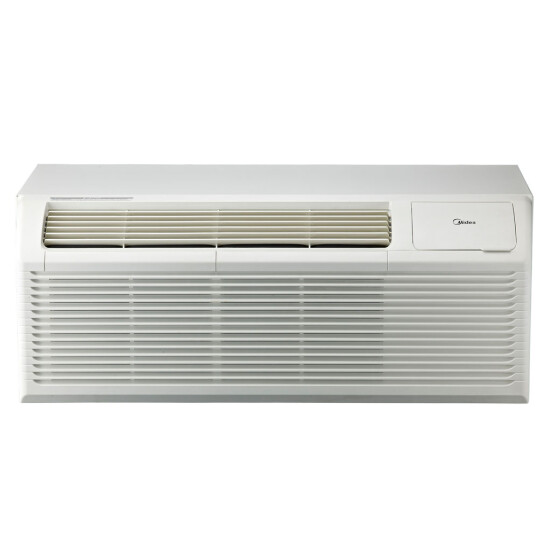 Additional information
| | | | |
| --- | --- | --- | --- |
| Air Conditioner Configuration | PTHP | Manufacturer | Midea |
| Condition | New | Required Voltage | 265-277 V |
| Required Amperage | 20 A | Interface Type | Digital |
| Heat Type | Heat Pump | Heater Size | 3.5 kW |
| Product Length | 42 | Product Width | 20.5 |
| Product Height | 15 | Shipping Length | 47 |
| Shipping Width | 26 | Shipping Height | 21 |
| Wi-Fi Connectable | No | Remote Control Included | No |
| Automatic Restart | No | Seacoast Protection | No |
| Freeze Protection | No | Fan Speeds | 2 |
| Sleeve Included | No | Grille Included | No |
9,000 to 15,000 Btu Midea PTAC with Heat Pump with 3.5 kW Electric Heat - 265 V / 20 A
Midea is well-known as the largest producer of major appliances worldwide. Its 25 years of producing air-conditioning systems means Midea knows how to make air conditioners that are high-quality, long-lasting, and not excessively expensive.

This PTAC series from Midea offers 9,000 Btu, 12,000 Btu, and 15,000 Btu PTACs, all of which include a heat pump as well. Heat pumps are an ideal solution for those who want to save energy and money and reduce environmental impact. They work particularly when the weather isn't too warm or too cold, as they transfer heat outside when warm and transfer it inside when cold. Because it isn't creating heat or cooling, but is rather just moving heat, the energy needs of a heat pump are much less.

For convenience's sake, this series includes an easy-to-use remote control, allowing you to adjust the temperature setting and fan speed from several feet away. Up close, electronic controls are simple with straightforward buttons and a clear LED display. Additionally, auto defrosting of the evaporator keeps the series' units effectively dehumidifying, even when it's chilly outside. Because these units have extra-large ventilation doors, more outside air is brought into the room so that the air is always fresh and well circulated.

With the series' auto restart feature, power outages are made a bit less stressful. No longer must you attend to each individual unit in order to turn them all back on when power is restored. Instead, as soon as each PTAC senses that energy access is renewed, it returns to full operating mode, including the setting the unit was on at the time of the outage. This line of PTACs is definitely worth considering, with its overall low-maintenance operation, affordability, and ultra-high quality.
We'd love to help you save money on new PTACs and professional installation.
Do a little research, and you'll quickly realize that PTAC Crew offers the lowest prices on new PTACs. We also happen to be the only professional installation company operating in all 48 lower states. Give us a call, and we'll put together a very attractive quote for you. Don't hesitate to call with your PTAC-related questions.
Why buy refurbished units with a warranty
Our factory refurbished PTACs come with a 6-month warranty. You can rest assured that our best deals are a smart choice for you business.
Learn more
Would you like us to remove your old PTACs?
Our professional crews will remove your old units. We will then refurbish or recycle them at our EPA-Certified facilities.
Learn more
Which PTAC units are the best?
Our definitive buyer's guide will help you pick the right PTACs for your property.
Download our guide