Back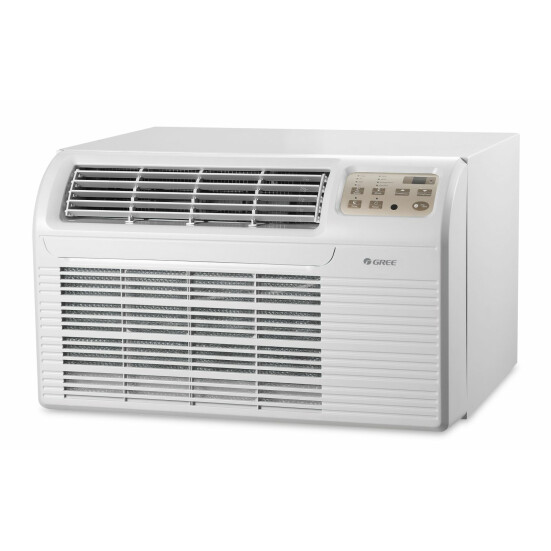 Additional information
Net Weight (lbs)
78
Air Conditioner Configuration
TTW
Manufacturer
Gree
Manufacturer SKU
26TTW09HP115V1A
Condition
New
Btu Cooling
9,000 Btu
Required Voltage
110-120 V
Required Amperage
15 A
Cord Included
Yes
Plug Type
NEMA 5-15
Interface Type
Digital
Heat Type
Heat Pump
Heater Size
3.5 kW
Product Length
26
Product Width
21.2
Product Height
15.6
Shipping Length
30
Shipping Width
24.5
Shipping Height
18.5
UPC Barcode
26TTW09HP115V1A
852036004626
Energy Star Certified
No
Parts Warranty Period
One-Year
Whole Machine - Labor Warranty
1 Year
Compressor / Sealed System Warranty
5 Years
Refrigerant Type
R-410A
Dehumidification (Pints/Hr.)
2.32
Wi-Fi Connectable
No
Remote Control Included
Yes
Number of Fan Motors
2
Fan Speeds
3
Energy Efficiency Rating (EER)
9.8
COP Rating
3.0
BTUs Heating (Nominal)
3900
Maximum Cooling Watts
920
Maximum Cooling Amps
8.40
Maximum Heating Watts
830
Maximum Heating Amps
11.0
Actual Cooling BTUs @ 115V
9000
Actual Heating BTUs Elec @ 115V
3900
Actual Heating BTUs Heat Pump @ 115V
8500
CFM (Cool/Wet Coil) - High:
270
CFM (Cool/Wet Coil) - Low:
223
9,000 Btu Gree Through-the-Wall A/C with 3.5 kW Heat Pump - 115 V / 15A
Gree stands out as the top air-conditioning company in the world and produces many millions of residential as well as commercial air conditioners for global use. With years of production under their belt (so to speak), Gree's through-the-wall air conditioners are some of the highest quality of this category.

Part of the T2600 series, this 9,000 Btu air conditioner is ideally suited to cooling a room of roughly 400 square feet. This unit is the industry standard size of 26 inches by 15 5/8 inches, which makes it easy to install in most standard wall sleeves.It also includes a heat pump. Heat pumps are an excellent feature for energy efficiency and eco-friendly operation. When the weather is relatively mild (warm or cool, but not too hot or cold), they maintain a comfortable indoor climate. Heat pumps do so by transferring heat indoors when it is cool outside and transferring warmth outdoors when it is warm outside. Without actively creating heat, they are able to reduce energy needs dramatically.

Energy efficiency, and thus affordability, are major features of this unit in general. It allows users to set room temperature limits, thereby preventing the kind of overcooling (or overheating) that can waste large amounts of money. Furthermore, the fan cycle can be set to run only when the compressor is running to reduce overall cost of operation. Its Energy Efficiency Rating (EER) is measured at 9.8. Finally, it uses R410A Refrigerant, which is environmentally friendly and fully meets 2010 Environmental Protection Agency regulations.

Quiet operation is another major feature of this air conditioner. Dual Motor Technology means near-silent operation, as does the Aero-Quiet Indoor Blower Wheel. Meanwhile, the adjustable three-speed fan allows users to easily customize their air conditioning experience for optimal comfort. Its simple, clean, and modern lines make it an attractive and low-profile addition to any room, as does its muted color palette.

All units in the T2600 series are covered by Gree's five-year limited Performance Guarantee. This means that for the first year, the entire unit's parts and labor are under a limited warranty, while from the second through fifth years there is a parts and labor limited warranty on the sealed refrigeration system. Choose this 26TTW09HP115 air conditioner for guaranteed satisfaction, comfort, and ease of use with little hassle and years of effective cooling.

*Please note that PTAC units do not include sleeves and grilles. These must be purchased separately.
We'd love to help you save money on new PTACs and professional installation.
Do a little research, and you'll quickly realize that PTAC Crew offers the lowest prices on new PTACs. We also happen to be the only professional installation company operating in all 48 lower states. Give us a call, and we'll put together a very attractive quote for you. Don't hesitate to call with your PTAC-related questions.
Why buy refurbished units with a warranty
Our factory refurbished PTACs come with a 6-month warranty. You can rest assured that our best deals are a smart choice for you business.
Learn more
Would you like us to remove your old PTACs?
Our professional crews will remove your old units. We will then refurbish or recycle them at our EPA-Certified facilities.
Learn more
Which PTAC units are the best?
Our definitive buyer's guide will help you pick the right PTACs for your property.
Download our guide