Back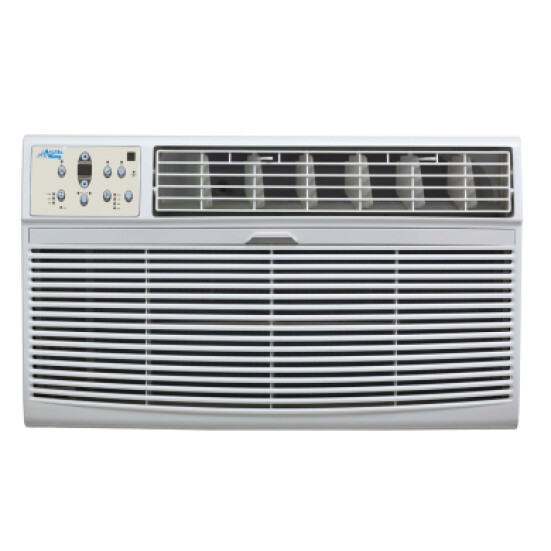 Additional information
| | | | |
| --- | --- | --- | --- |
| Air Conditioner Configuration | TTW | Manufacturer | Midea |
| Condition | New | Required Voltage | 208-230 V |
| Required Amperage | 20 A | Plug Type | NEMA 6-20 |
| Interface Type | Digital | Heat Type | Resistive Electric Only |
| Heater Size | 3.5 kW | Wi-Fi Connectable | No |
| Remote Control Included | No | | |
12,000 to 14,000 Btu Midea Arctic King Through-the-Wall A/C with Heater with Remote Controler - 208 V / 20 A
The Midea Arctic King Through-the-Wall A/C with Heater with Remote Controler is exactly that. It will heat and cool your area of 550-700 square feet to your desired temperature. Don't worry if there's a power outage. Once the power resumes, the unit will automatically restart at the previous setting. You don't even have to get up from your comfortable chair or work space to change the temperature or fan speed. Use the remote controler that will work from anywhere within your area. No recycled air here! This system brings fresh air in from the outside to keep you healthy and uses eco-friendly refrigerant. This 78.1- to 89.1-pound unit will require careful installation in the exterior wall of the room. It operates at 12,000-14,000 Btus, 208 V, and 20 A. This system is 24 inches wide, 14.5 inches high, and 20-20.3 inches deep. This unit is very easy to use. Midea is the largest producer of major appliances in the world and wins 40+ design awards at global design shows each year. They're promise is ""to provide surprisingly-friendly solutions for the one who treasure those tiny moments at home."" Midea is also the No. 1 brand of air coolers. So, go out and buy an Arctic King Through-the-Wall A/C with Heater with Remote Controler today and ""make yourself at home."

*Please note that PTAC units do not include sleeves and grilles. These must be purchased separately.
We'd love to help you save money on new PTACs and professional installation.
Do a little research, and you'll quickly realize that PTAC Crew offers the lowest prices on new PTACs. We also happen to be the only professional installation company operating in all 48 lower states. Give us a call, and we'll put together a very attractive quote for you. Don't hesitate to call with your PTAC-related questions.
Why buy refurbished units with a warranty
Our factory refurbished PTACs come with a 6-month warranty. You can rest assured that our best deals are a smart choice for you business.
Learn more
Would you like us to remove your old PTACs?
Our professional crews will remove your old units. We will then refurbish or recycle them at our EPA-Certified facilities.
Learn more
Which PTAC units are the best?
Our definitive buyer's guide will help you pick the right PTACs for your property.
Download our guide