Back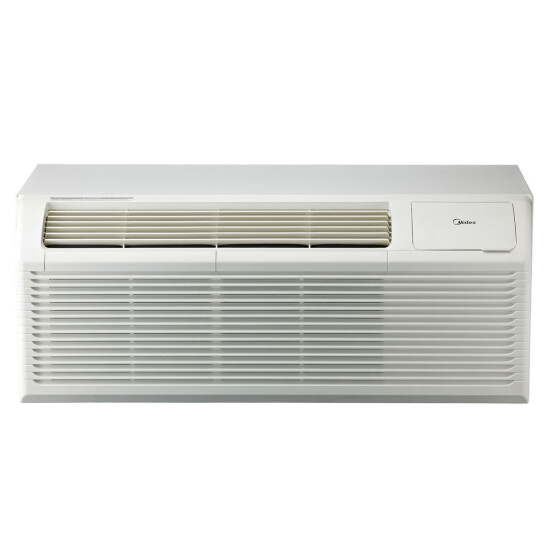 Additional information
| | | | |
| --- | --- | --- | --- |
| Air Conditioner Configuration | PTHP | Manufacturer | Midea |
| Condition | New | Required Voltage | 208-230 V |
| Required Amperage | 20 A | Plug Type | NEMA 6-20 |
| Interface Type | Digital | Heat Type | Heat Pump |
| Heater Size | 3.5 kW | Product Length | 42 |
| Product Width | 20.5 | Product Height | 15 |
| Shipping Length | 47 | Shipping Width | 26 |
| Shipping Height | 21 | Refrigerant Type | R-410A |
| Wi-Fi Connectable | No | Remote Control Included | No |
| Automatic Restart | Yes | Seacoast Protection | No |
| Freeze Protection | No | Number of Fan Motors | 2 |
| Fan Speeds | 3 | Sleeve Included | No |
| Grille Included | No | | |
9,000 to 15,000 Btu Midea PTACs with 3.5 kW Electric Heat and Heat Pump - 208/230 V / 20 A
This series is produced by Midea, the world's largest producer of major appliances. Midea has been creating commercial and residential air conditioning systems for more than 25 years, emphasizing--above all--affordability, durability, and quality, with particular concern for environmental stability and customer satisfaction.



This Midea PTAC series offers both heating and cooling, with cooling capacity options of 9,000 Btus, 12,000 Btus, or 15,000 Btus. The units in this series are highly versatile for a variety of applications, with electric heat as well as heat pumps. In locations with more moderate heating/cooling demands, this heat pump is an ideal choice, as it offers an energy-efficient means of heating and cooling spaces. Whatever the season, use of the heat pump will help save you money while reducing negative environmental effects.



This series offers many features that make its PTACs particularly useful and convenient additions to any space. For instance, auto restart means that after a power failure, there is no need to manually power the unit up when power is restored. Additionally, when dealing with low temperatures, this model offers automatic defrosting, which prevents the evaporator from freezing to extend the life of your PTAC. The series' dual motor design and durable chassis reduce disruptive sound during operation. Fresh air ventilation improves air quality by supplying the room with fresh air during use. The simple, clear controls offer LED and digital display and are entirely user-friendly; an optional wireless remote control further improves and simplifies the user experience and simplicity.



If you're looking to upgrade your Midea PTAC, available accessories include a foldable wall sleeve, condensate drain kit, standard programmable wall thermostat, and stamped aluminum and extruded architectural grilles. Midea PTACs are also backed by a five-year sealed system warranty and a two-year warranty for parts and labor; with your purchase, you can look forward to having a quality, functional heating and cooling system for many years.

*Please note that PTAC units do not include sleeves and grilles. These must be purchased separately.
We'd love to help you save money on new PTACs and professional installation.
Do a little research, and you'll quickly realize that PTAC Crew offers the lowest prices on new PTACs. We also happen to be the only professional installation company operating in all 48 lower states. Give us a call, and we'll put together a very attractive quote for you. Don't hesitate to call with your PTAC-related questions.
Why buy refurbished units with a warranty
Our factory refurbished PTACs come with a 6-month warranty. You can rest assured that our best deals are a smart choice for you business.
Learn more
Would you like us to remove your old PTACs?
Our professional crews will remove your old units. We will then refurbish or recycle them at our EPA-Certified facilities.
Learn more
Which PTAC units are the best?
Our definitive buyer's guide will help you pick the right PTACs for your property.
Download our guide