Back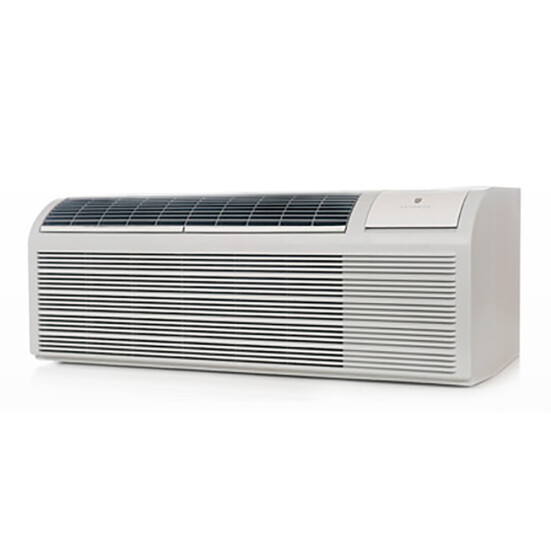 Additional information
| | | | |
| --- | --- | --- | --- |
| Air Conditioner Configuration | PTHP | Manufacturer | Friedrich |
| Condition | New | Required Voltage | 265-277 V |
| Required Amperage | 20 A | Plug Type | NEMA 7-20 |
| Interface Type | Digital | Heat Type | Heat Pump |
| Heater Size | 3.5 kW | Product Length | 42 |
| Product Width | 20.5 | Product Height | 15 |
| Shipping Length | 47 | Shipping Width | 26 |
| Shipping Height | 21 | Dehumidification (Pints/Hr.) | 2.2 |
| Wi-Fi Connectable | No | Remote Control Included | No |
| Automatic Restart | No | Seacoast Protection | No |
| Freeze Protection | No | Number of Fan Motors | 2 |
| Fan Speeds | 3 | Sleeve Included | No |
| Grille Included | No | | |
9,000 to 12,000 Btu Friedrich Zoneaire PTACs with Heat Pump with 3.5 kW Electric Heat - 265 V / 20 A
Friedrich does one thing, and they do it right: air conditioners. Since day one, Friedrich has stood on the pillars of quality, performance, efficiency, choice, and service. Because of their dedication to the craft, you can always expect the best from them when it comes to your PTAC system. The Zoneaire is no exception. This model offers a wide range of features and benefits, each designed to save you time, money, and stress. Available in 9,000 or 12,000 Btu versions, operating at 265 V and 20 A, and specially designed for commercial use, these units are built with the savviest of hotel owners in mind.

Energy efficiency is key, so Friedrich offers super-efficient refrigeration design, advanced coil design, heat pump technology with electronic defrost control, thicker steel inner walls and foam construction in order to minimize energy loss, temperature range controls and room freeze protection, coil-cooling technology, and centralized controls so you can make adjustments in any room without leaving your desk.

Friedrich cares about your guests, too, though! Noise is kept to a minimum using lubricated fan motors, which increase durability and decrease sound levels, vibration isolators for the compressor, high-density insulation, and a tangential blower wheel that widens the path of airflow more quietly and efficiently than traditional fans. In addition, these models offer dehumidification to improve comfort, a constant fan mode for white noise and reduction in abrupt auditory changes, a fresh air damper to bring in fresh air, anti-microbial air filters (which are easily accessible and washable), even heat monitoring, periodic temperature sampling, and reversible indoor air louvers.

Maintenance and installation are a cinch thanks to the modular product design, compact build, an inner wall service plate, and remote thermostat pop-out wiring. All of this comes with a two-year parts and labor warranty and a five-year limited warranty!
We'd love to help you save money on new PTACs and professional installation.
Do a little research, and you'll quickly realize that PTAC Crew offers the lowest prices on new PTACs. We also happen to be the only professional installation company operating in all 48 lower states. Give us a call, and we'll put together a very attractive quote for you. Don't hesitate to call with your PTAC-related questions.
Why buy refurbished units with a warranty
Our factory refurbished PTACs come with a 6-month warranty. You can rest assured that our best deals are a smart choice for you business.
Learn more
Would you like us to remove your old PTACs?
Our professional crews will remove your old units. We will then refurbish or recycle them at our EPA-Certified facilities.
Learn more
Which PTAC units are the best?
Our definitive buyer's guide will help you pick the right PTACs for your property.
Download our guide