Back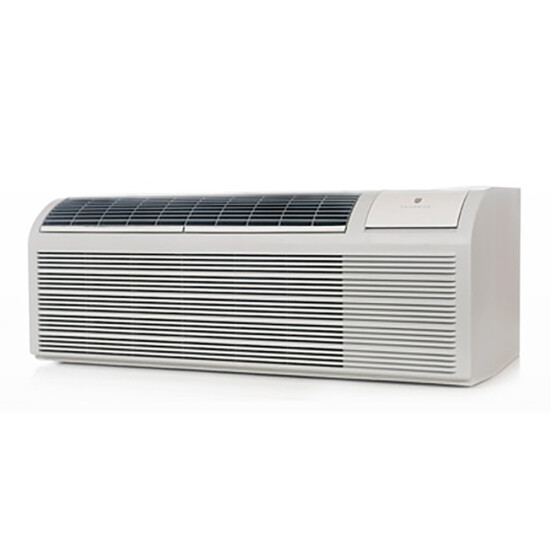 Additional information
| | | | |
| --- | --- | --- | --- |
| Air Conditioner Configuration | PTHP | Manufacturer | Friedrich |
| Condition | New | Required Voltage | 208-230 V |
| Required Amperage | 20 A | Plug Type | NEMA 6-20 |
| Interface Type | Digital | Heat Type | Heat Pump |
| Heater Size | 3.5 kW | Product Length | 42 |
| Product Width | 20.5 | Product Height | 15 |
| Shipping Length | 47 | Shipping Width | 26 |
| Shipping Height | 21 | Wi-Fi Connectable | No |
| Remote Control Included | No | Automatic Restart | No |
| Seacoast Protection | No | Freeze Protection | No |
| Sleeve Included | No | Grille Included | No |
7,000 to 12,000 Btu Friedrich PTACs with Heat Pump with 3.5 kW Electric Heat - 208 V / 20 A
These three Friedrich PTACs with Heat Pump offer a rare combination: highly-effective air control meets low noise disturbance. That's because the louder of the two permanently lubricated motors is put in the outer side of this air conditioner and then protected even further by high-density insulation. But what sets this unit apart doesn't end there.



Whether guests appreciate the gentle white noise of the constant fan feature, come in from the cold to find the Instant Heat button, or just enjoy a room at their perfect temperature without damaging their ears in the process, this unit is set to be a fan favorite. The heating and cooling are separately controlled, as well, and offer the ability for management to set limitations. The built-in dehumidifier operates at 2.7 pints per hour. These units have even temperature controlling that properly cools or heats the room depending on what's required. Friedrich clearly has identified problem points associated with other PTACs and has eliminated them.



Owners, you're going to appreciate this level of durability made specifically to handle cold climates and coastal areas. Is your property on a beach in Newfoundland? Then one of these Friedrich PTACs is for you. But really, the specificity of the region is to point out just how long these products were designed to last. Any issues can be addressed via the brand's national service network, and it's compatible with energy system management programs as well. At Friedrich, they're all about peace of mind and comfort of body. To clean, simply remove the two washable (not disposable) antimicrobial filters.



Discover why people around the world find the name Friedrich synonymous with unrivaled quality. Whether it's the 7,000 Btu, 9,000 Btu, or 12,000 Btu model, these Friedrich PTACs with Heat Pump have the kind of features, benefits, conveniences, and longevity that will make you wonder what you were doing without one.

*Please note that PTAC units do not include sleeves and grilles. These must be purchased separately.
We'd love to help you save money on new PTACs and professional installation.
Do a little research, and you'll quickly realize that PTAC Crew offers the lowest prices on new PTACs. We also happen to be the only professional installation company operating in all 48 lower states. Give us a call, and we'll put together a very attractive quote for you. Don't hesitate to call with your PTAC-related questions.
Why buy refurbished units with a warranty
Our factory refurbished PTACs come with a 6-month warranty. You can rest assured that our best deals are a smart choice for you business.
Learn more
Would you like us to remove your old PTACs?
Our professional crews will remove your old units. We will then refurbish or recycle them at our EPA-Certified facilities.
Learn more
Which PTAC units are the best?
Our definitive buyer's guide will help you pick the right PTACs for your property.
Download our guide